I'm Very Happy becuase I found Monica's Gang Gogo's Crazy Bones! I have been wanting these for a long time, but these being exclusive to Brazil makes them very hard to find. I finally found some! I'm very happy! I can't wait until they arrive! I may make A Few Remakes of Monica's Gang with these. :)
They Arrived!!!
These Gogo's arrived about 2 or 3 Months ago (Sorry, I forgot to post this earlier, lol!!!), and they were very nice!!! I'm so happy to have these in My Gogo's Crazy Bones Collection!!! I have made a
Monica's Gang Gogo's Short on My Youtube Channel!!!
Special Thanks to
Firewalker75
for selling these to me!!! :D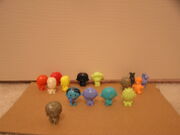 Ad blocker interference detected!
Wikia is a free-to-use site that makes money from advertising. We have a modified experience for viewers using ad blockers

Wikia is not accessible if you've made further modifications. Remove the custom ad blocker rule(s) and the page will load as expected.