Marina
'
Age
9
Race
Human
Gender
Female
Role
Major character
Likes
Drawing
Marina Takeda Sousa
 is one of the characters of
Monica's Gang
which was based on a real person, the daughter of Mauricio De Sousa, Marina Souza. In the stories, Mauricio and his wife Alice are the parents of Marina.
Personality
Edit
Marina is a friendly Brazilian girl, being friends with everyone in the Gang. Influenced by her father, Mauricio De Sousa himself, Marina developed taste for drawing and painting, having much talent for this and always receiving several requests for drawings of friends.
Marina was originally part of the real world but was delighted with the comics made by her father, who with the help of a magic pencil given to her by himself, can enter the world of comics whenever she wants. 
In Monica Teen, Marina remains the same delicate girl, beautiful and talented as ever. She still has taste for drawing, but she began practicing karate. She is one of the youngest girls of the group. She is calm and controlled.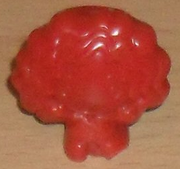 Marina was born on February 10 and is of the sign of Aquarius.
Marina is a descendant of Japanese and Brazilians, but has no Japanese aspect in her design. This is rare, since Japanese genes are generally dominant
Marina used to use the Magic Pencil to go from the real world to the comic book world. Currently she lives in the neighborhood of Limoeiro with her family and is a member of the Class.
The Royal Navy had curly hair, but made a definitive Japanese straightening as it appears in Monica's 40-year commemorative edition, published in April 2004 by Globo.
Marina is afraid of dogs.
The blue alien drawn on her blouse is Alfredinho, a character created by the real-life Marina during her childhood (at which time the comic book Marina was created - in 1994 Marina was 8 years old).