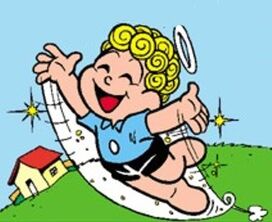 Angel (Anjinho) is the character who appears due by a few stories of Monica's Gang.
Personality
Edit
As being a angel guardian angel, he befriends with Monica, Jimmy Five, and Smudge. He is an assistant to help some child characters, which often as a minor protagonist. His weakness is dirt, causing his wing covered by dirt and was unable to fly (as seen in the musical part of the fifth cinema of Monica's Gang).
Appearance
Edit
Angel has a light blue polo shirt along with his black shorts. His hairdo was blonde and curly and has blue eyes and the other don't.
Due by a few stories, Angel is the only character who was replacing Maggy in the final part of Monica's Gang Cinema.
Angel is the only character with a different eye color.
Ad blocker interference detected!
Wikia is a free-to-use site that makes money from advertising. We have a modified experience for viewers using ad blockers

Wikia is not accessible if you've made further modifications. Remove the custom ad blocker rule(s) and the page will load as expected.